Published in Ehpadia magazine
Founded in 2003, Oxy'Pharm is the originator of Nocotech, an innovative concept for airborne surfaces bio-disinfection (ASD), which has proven its effectiveness on pathogens without causing hazards for humans and the environment. This dual requirement remains at the heart of its expanded offer, as explained by Thierry Rouleau, Doctor of Pharmacy and CEO and co-founder of this French group.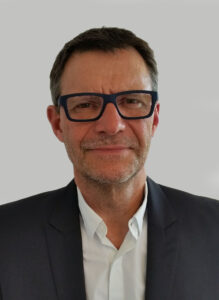 In what context was 
 the Nocotech created?
Dr Thierry Rouleau: To trace its history, we have to go back to the early 1980s and the creation of Airel. This company, which I co-founded with my brother, became the Airel-Quetin Group, the last French manufacturer of dental chairs. I was already interested in preventing cross-contamination at that time, and this led me to develop the only treatment system that still guarantees germ-free water in dental units today. As I extended my thinking to controlling man-made hazards, I looked for a solution for surface decontamination that would have a broad spectrum but would leave no residue, to limit resistance. This is how my attention was drawn to hydrogen peroxide, or H₂O₂.
H₂O₂ definitely fulfilled my primary requirement: it is effective on viruses, bacteria, spores and fungi, and it decomposes only into water and oxygen. However, it is very corrosive in its liquid form, so we had to work on this point. After several years of research, we developed Nocotech, through which H₂O₂ diffuses in a gaseous form which allows it to permeate everywhere. This means that it loses its corrosive properties but retains its disinfectant properties, with proven effectiveness according to the
French NF T-72280 and European EN 17272 standards. This major step forward led to the creation of Oxy'Pharm in 2003. In 2006, formaldehydes were classified as carcinogenic. Hospitals, which used them extensively for disinfecting their premises, became interested in our concept, which is now used in 122 countries. However, we wanted to go further. As we were aware that the quality of a bio-disinfection is closely linked to the quality of the bio-cleaning carried out upstream, in 2019 we acquired Sanivap, a Lyon-based manufacturer of steam bio-cleaners.
This wider offer, which is both biodegradable and compliant with current standards, now works in complete synergy.
Sanivap and Nocotech are part of the same philosophy. Based on high-temperature, high-pressure water vapour diffusion, Sanivap leaves no residues and is therefore perfectly environmentally friendly. It is nonetheless effective, eliminating biofilm and dirt in accordance with the requirements of standard NF 72-110. It is therefore hardly surprising that the combined Sanivap/Nocotech solution quickly attracted the healthcare institutions. Our range should continue to grow, particularly in response to the problem of airborne particles that carry micro-organisms. We will nevertheless maintain the values at the heart of our current offer, by seeking eco-responsible solutions for which we can validate their effectiveness in a quantifiable way, which is for example the case for air treatment systems by filtration, based on recognised standards, unlike photocatalysis or UV.•
To discover Oxy'Pharm's offer, go to the FNADEPA congress in Angers (16/11) and
La-Roche-sur-Yon (18/11), and at AGE3 Marseille (18/11) and AGE3 Nancy (16/12).