A manufacturer that listens
to its clients
Due to Oxy'Pharm's clients' demand for the corresponding service, now we offers interventions for any requests relating to disinfection and pest control (cockroaches, bedbugs, etc.) and insect extermination, both for professionals and private individuals.
A professional contract is offered to adapt each preventive and/or curative treatment to ensure a healthy environment that meets the standards.
Versatility
at your service
Disinfection
One-time or regular disinfection of your premises using an automated surface bio-disinfection process. We guarantee the elimination of bacteria, spores, viruses, germs, yeast, etc. Without corrosion and without cleaning after treatment.
Bed bugs
Extermination service pairing two techniques for maximum efficiency: manual treatment with dry steam + automated spray of an insecticide on 100% of the surfaces of the room.
Insect extermination
Removal service for all insects, including mites, through an automated and efficient solution. Oxypy insecticide is released as a gas (5μ particles) and kills flying and crawling insects, parasites and larvae.
Mites
Treatment of your environment against the scabies mite. The treatment provides immediate management at the onset of the epidemic and limits the number of people infected. Our solution is based on an automated spray of Oxypy insecticide on all the surfaces of the rooms concerned.
Rat extermination
Preventive intervention or when signs of mice or rats appear on your premises. The method used to exterminate them will depend on the people in your premises.
Wasps and hornets
Our experts are trained in exterminating wasp and hornet nests at heights of up to 30 metres. Do not hesitate to contact us and together we will look at the most appropriate solution to your problem.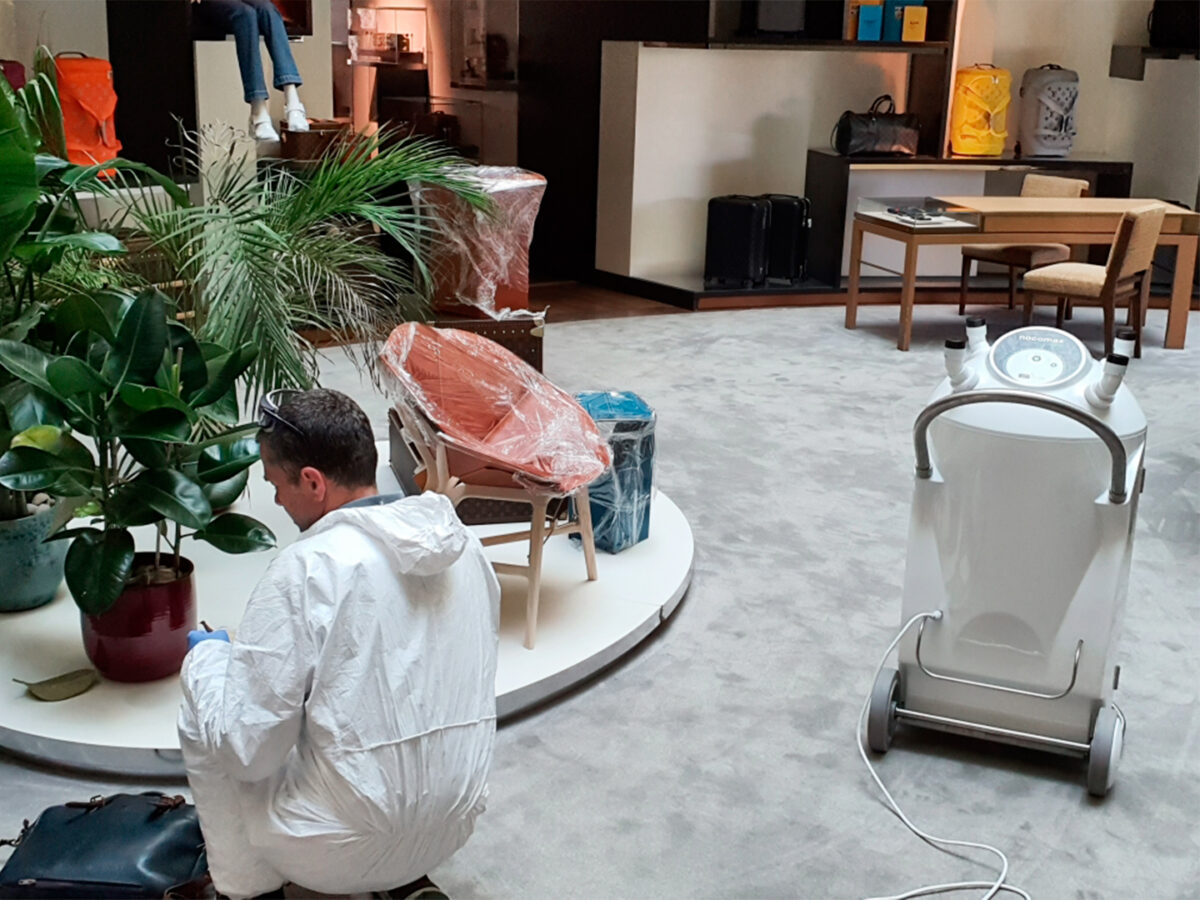 An innovative
and efficient process
Our process uses dispersion pairing Nocotech devices with a disinfectant or insecticide specially developed to combat pests.
Nocotech, a pioneer automated surface bio-disinfection, is an innovative and effective solution because the product is distributed over all the surfaces of the room to be treated, which cannot be achieved by a physical person.
All our technicians are Certibiocide certified. They are trained in the detection and specific treatment of pests.
Scientifically proven effectiveness...
Tests carried out in the laboratory and in the field have demonstrated the effectiveness of the pairing of the device and the range of disinfectant and insecticide products. The results observed are a total elimination of bacteria, viruses, mushrooms, …on the treated surfaces.
The treatment is certified by EN 17272. Oxy'Serv also has the Certibiocide certificate issued by the Ministry of Ecological Transition and Solidarity.